Our pricing.

The right solution for your requirements. An overview of our packages and features:
Base price
included access
100 additional users
seminars
audio storage
video storage
Classic Media Package
Suitable for organizing all of your presentation slides and photos.
100 users
access for 100 users included
50€
additional 100 users: 50€
Advanced Media Package
Include video and audio recordings together with slides and use our marketing-tools.
250 users
access for 250 users included
100€
additional 100 users: 100€
10 Hours
10 hours audio storage
10 Hours
10 hours video storage
Pro Media Package
Includes all of the features from the Advanced Media Package with extended media capacity and e-commerce tools.
500 users
access for 500 users included
200€
additional 100 users: 200€
25 Hours
25 hours audio storage
25 Hours
25 hours video storage
access management
web-slides
write notes
export PDFs
photo gallery
sponsor information
speaker information
iFrame
communication with your technical service provider
synchronized web-slides
E-Mail leads
sales page
automatic billing system
automatic payout system
communication with your technical service provider
communication with your technical service provider
one hour of video
one hour of audio
one hour of media synchronised with slides
N/A
N/A
N/A
re.events offers your visitors several key features.

These are the most essential:
Videos and slides – running side by side.
Presentation slides are detached from the video and run in parallel, enabling you to stop at a slide, zoom in, or go back a couple of slides. This is especially useful to have a closer look without having to interrupt the speech.
Take notes.
You are watching a seminar and arrive at a very interesting point, that you want to remember? Use the note feature to jot down your thoughts. The time and slide number will be saved along with your note, serving as a bookmark, so you can always go back to it later on.
Export pdfs.
Whether you want to download a whole presentation or just an excerpt, exporting pdfs with the content you want has never been easier for conferences. This is especially useful when presentations are remarkably large - the exported pdf will contain only what is important to you. When combined with notes, this becomes a very powerful tool.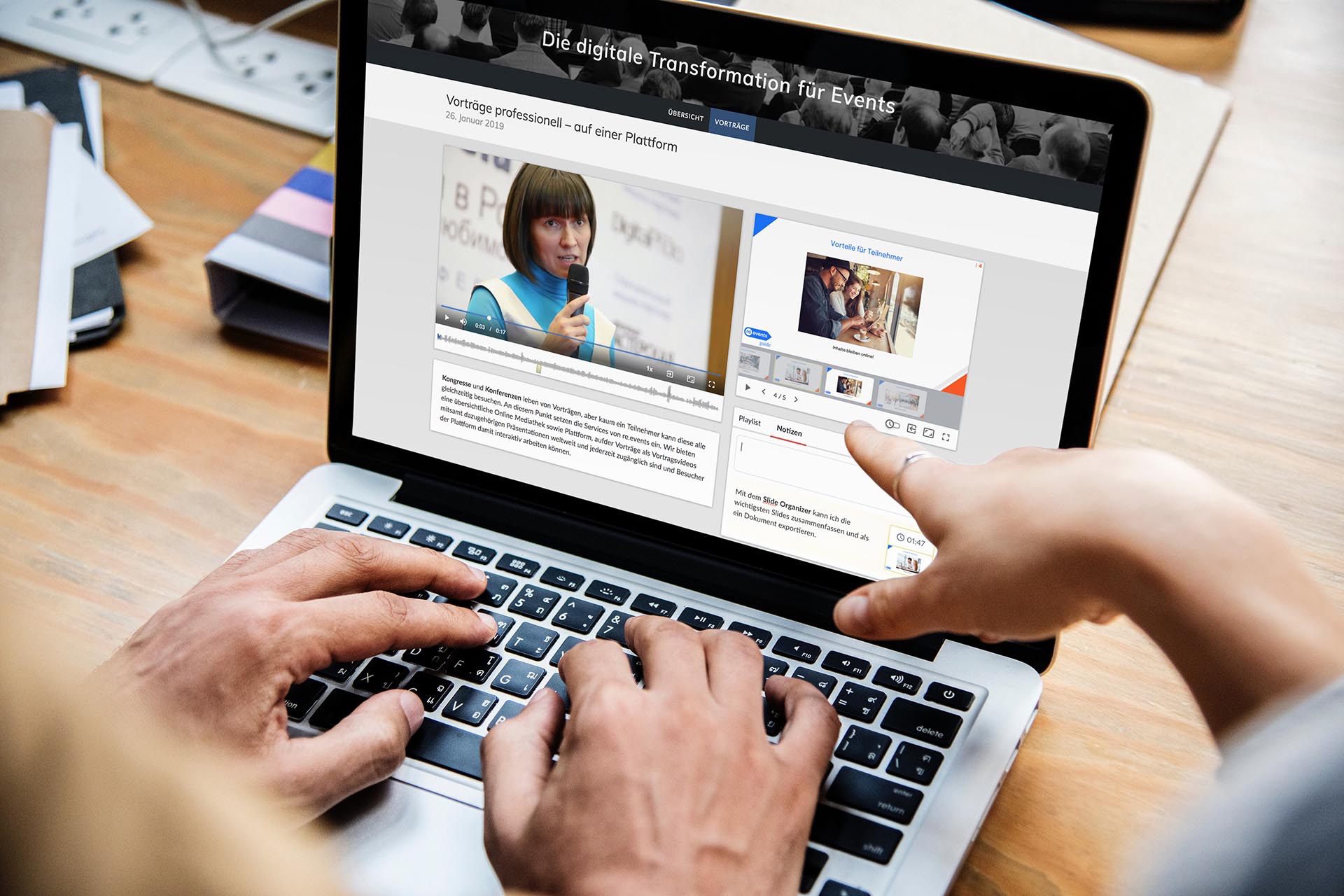 Useful features for event organizers.

Ease of use and best results - this characterizes our functionality at re.events. Increase your visitor numbers and boost your revenue online with the following key features:
Access management.
We offer a wide spectrum of possibilities for access management. Use our payment system or generate access codes to use as you wish. Generate one code for several people, or several codes for single use. Create VIP codes with full access, and free codes for limited access. You control how people access your conference.
Monetization.
Our payment system enables you to sell your content without the hassle of distributing access codes yourself. Simply define your price and users are presented with a preview page where they can easily purchase it. Funds are directly transferred to you and your beneficiaries through stripe.
iFrame.
Market directly from your website via iFrame. With a simple code snippet, you can integrate an overview of your best seminars. Depending on your setup, you can encourage your visitors to purchase content or request an access code. If you require a custom iFrame solution tailored to your website, feel free to contact us.
Photo gallery.
We all love photos. That's why we included a photo gallery for each event. Its visually pleasing and complements the overall experience.
Can't find what you are looking for? Get in touch via email or phone.